Ilusión Flamenca in the press
So grateful to be a part of this amazing flamenco dance school, Angela ensures students always have master classes & events to attend, a performance to work towards, and beautiful choreography in lessons always accompanied by a guitarist. If you love to dance and want to feel absorbed into the true flamenco spirit come and join us!
KIRSTY HENNESSEY, INTERMEDIATE
It's an absolute privilege being taught by a true flamenco professional. I love attending the class, everyone's friendly, it's good fun and I walk out of there feeling totally energised.
Interviews
Angela Alonso is regularly featured in interviews, both radio – such as BBC, RadioX and RNE – and TV (including ITV UK, MTV, TVE2 Spain and Canal Sur Andalucia). A selection of these appearances can be found below.
El Ibérico interview with Angela
Inquietos interview with Angela
InterAlmeria interview with Angela
Guest appearances and collaboration
Angela Alonso and Saulo Garrido dance for an MTV promo of a Keane concert transmitted live from Spain.
Graciela – It Will Rain music video
Roger Waters – The Last Refugee music video
Angela was the stylist for Pink Floyd's Roger Waters's new music video.
LaXula live at Sadler's Wells
Angela joined LaXula live on stage at Sadler's Wells theatre.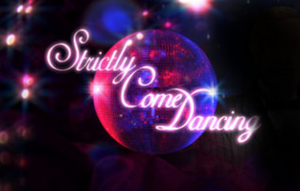 Ilusion Flamenca School was select appeared on Strictly Come Dancing, teaching Jill Halfpenny, the eventual winner, how to dance sevillanas.
Her school was selected by The BBC's Strictly Come Dancing to teach, Jill Halfpenny, winner in 2004.
Angela appeared on Channel 4 Sunday Brunch with guests Mable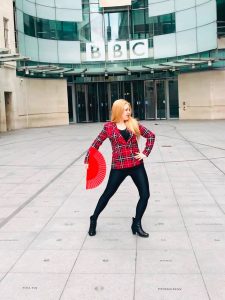 Interview at BBC London Radio
Angela Alonso talks about Feria de Londres at the Southbank.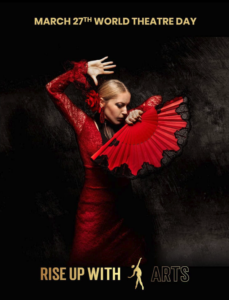 Ilusion Flamenca celebrates the World Theatre Day. Charity event hosted by Strictly Come Dancing couple Anya Garnys and Pasha Kovalev.
https://www.riseupwitharts.com/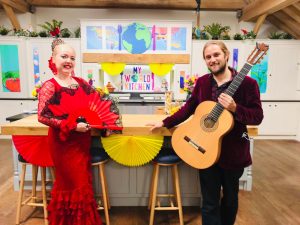 Ilusion Flamenca performs at My World's Kitchen BBC Cbeebies Channel.
Hispanic Day - October 2022
Ilusion Flamenca teaches castanets, percussion and dance workshops for META offices across London.
Spanish Circle - International Women's Week​
Angela Alonso is invited by The Spanish Circle as an inspirational talented woman to celebrate the international women's week 2023 to do a speech at the National Liberal Club.
Ilusion Flamenca performers at Christian Dior Mayfair and Chelsey Boutiques as part of the cruise collection launch inspired in Flamenco.
Charity Gala with Antonio Canales
Masterclass with Farruquito at London Covent Garden
Masterclass with Rafael Amargo
Ilusión Flamenca School at Hackney Empire
Rafael Amargo & Angela Alonso at Lukas Awards London
Gala Flamenca 2011
Annual student showcase