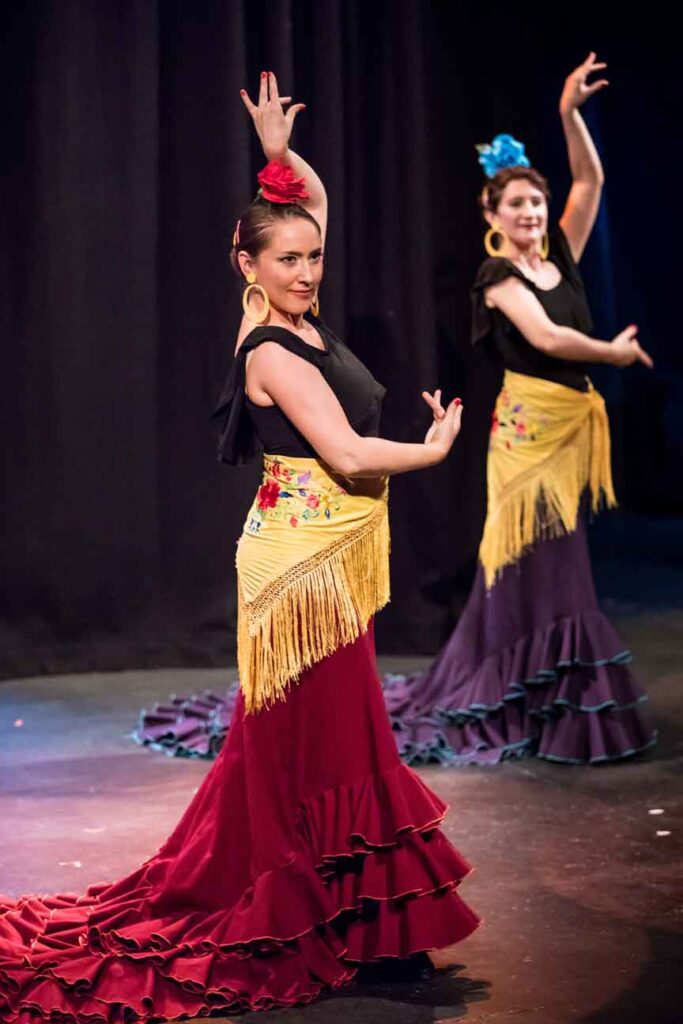 This is a Flamenco course for total beginners! No previous experience is required. It is possible to join once the course has started. Contact us to discuss.
You are welcome to attend our Beginners Flamenco Taster prior joining the full course. More info about the taster here
Always wanted to learn flamenco?
Learn the basics of footwork, arms/hands technique & flamenco choreography with us. Dancing keeps you fit and helps releasing stress. It is the perfect way of disconnecting your mind from everything!
Not sure this course is for you? You are welcome to book one individual lesson to give it a go before committing to the full course or attending the first course class to try it out. The individual session fee is £25.
Course details
When: Tuesdays 7.15-8:45 pm
Where: Jubilee Hall Gym, 30 The Piazza, Covent Garden, WC2E 8BE (by Transport Museum). Directions here Jubilee Hall Gym.
Term dates: Starts on 9/1/24 last lesson on 27/3/24
Duration: 12 weeks (it is possible to attend only half course, see below)
Course resumes after Easter.
Fee
Full course early bird £275 in studio / £180 zoom book by midday on 12/12/23 or £300 in studio/ £215 zoom after
Half course 6 weeks: £160 in studio/£115 zoom. Book for the full course and save!
It is possible to join once the course has started. Contact us to discuss. You are welcome to attend an individual lesson before committing to the full course. Individual lesson £25.
All classes are accompanied by live guitar music and held at professional dance studios.
Booking
To book please email us info@ilusionflamenca.co.uk or call 07931341754
Our courses are very popular so we advise early booking to avoid disappointment
Students are welcome to join any time even if the course has already started. We offer private catch up lessons should students require them.
This class can be followed live on Zoom.
How it works
The classes are on going January to July. The year is divided in 3 terms, September to December, January to April (up to Easter) and after Easter to middle of July. Each term is 12-14 weeks approximately, divided in 2 blocks of 6/7 weeks. We give priority to those booking for the block in full and offer any spaces left to those willing to attend on a drop in basis. We work on a different choreography each term.
You can join anytime even if the course has already started. The earlier the better!
FAQ
What do I wear for my first lesson?
For information on what to wear to your first lesson please see our FAQ.
Can I try before committing to the full course?
Not sure flamenco is for you? Would you like to give it a go before registering for the full weekly course? We offer one off beginner taster sessions for those willing to give it a go before committing to the full course.
Where can I buy flamenco gear?
We have good quality beginners flamenco shoes/boots and skirts for sale at competitive prices. We can bring them to class for you to try on if you decide to join our weekly classes- ask us in advance. Please check with your teacher what type of shoes/skirts are required before buying. We do not recommend buying online without trying on first.
Can I borrow flamenco shoes from you?
We have some second hand shoes/skirts we hire to students on a first come first serve basis. The fee is £5 for both items which we donate to charity. Please let us know whether you would like to hire for your first lesson. It is more fun!. Please notice that if you decide join the course on a regular basis you will have to eventually outsource your own shoes.
Is it possible to join the course once it has started?
Yes! The way we structure our courses allows students to join any time. The soonest you join obviously the better! We also offer private lessons to help students catch up if needed. We will do our best to accommodate you.
What happens if I miss a lesson?
The blocs are sold as a unit and it is not possible to discount missed lessons from the total. You are welcome to make up for any missed prepaid lessons by attending any of our choreography classes or use the pay as you go option.
If you join once the block has started we will only charge you for the remaining weeks from your first lesson.
Does the school offer performance opportunities?
The school offers performance opportunities throughout the year at Dance Festivals in Central London. These are optional and not compulsory. We invite all students to participate at Gala Flamenca, which is showcase organized by the school. The next Gala will be held in July 2023. The show is supported by professional musicians and technicians. Watch the video promo here.
Note for new students
We advice you contact us letting us know you are coming to the lesson for the first time in case there is a last minute change of venue or the lesson is cancelled. If we don't know you are coming we won't be able to notify you.
See you in class!
Future workshops and courses
Please register your interest in future courses and workshops by emailing us at info@ilusionflamenca.co.uk or sign up to our newsletter here
Covid policy
Please do not attend the class if you have symptoms. Face masks are not required during the lesson